Fellows at Vanderbilt have in-depth training in pulmonary and critical care medicine at our two training sites – Vanderbilt University Medical Center and the VA Medical Center, which are physically connected on one campus. We offer flexibility during years 2 and 3 (and optional year 4) to develop subspecialty expertise in accordance with each fellow's career goals.
Year 1:
In July and August of the first year, fellows participate in our "Jumpstart Series" with dedicated hands-on workshops in airway management, bronchoscopy and pleural procedures, and critical care ultrasound.  A series of 15 didactic sessions on high yield topics help get fellows up to speed on key areas of our practice such as asthma, COPD, reading chest radiology, pulmonary hypertension, and lung transplantation.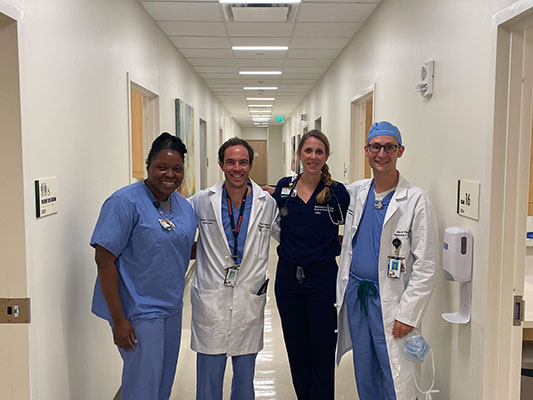 There are six core clinical rotations in the first year and fellows rotate through each in 2 week blocks:
VUMC pulmonary consults. Along with the pulmonary consult attending physician, fellows see all inpatient pulmonary consults from all services at VUMC and perform any necessary diagnostic or therapeutic procedures including bronchoscopy, thoracentesis, chest tube placement, and thoracic ultrasound. There is no night call on this service.
VUMC subspecialty pulmonary inpatient. Fellows work with a pulmonary attending and internal medicine residents to evaluate and manage patients on the inpatient pulmonary service. This service includes patients with a diversity of pulmonary diseases including post-ICU pulmonary disease, cystic fibrosis, pulmonary hypertension, and interstitial lung disease.  The fellow on this service works with the VU consult fellow to evaluate pulmonary consults and perform procedures for inpatients at VUMC. 
VUMC subspecialty pulmonary outpatient.  On this rotation, fellows work alongside subspecialty faculty to evaluate new consultations and established patients in the CF, PH, lung transplant, ILD, sarcoidosis, neuromuscular disease, and rare lung disease clinics. Fellows on this rotation participate in the interpretation of all pulmonary function tests in conjunction with the attending.
VA consult/bronchoscopy service. Alongside the VA consult attending physician, fellows perform consultation on inpatients with pulmonary disease and evaluate urgent outpatient pulmonary referrals. The fellow works with general pulmonary and IP faculty to perform bronchoscopy (including navigation and EBUS).
VA Medical Intensive Care Unit (MICU)/consult service. The fellow works with the PCCM attending physician and medical housestaff to provide care for critically ill patients in the combined medical/cardiac ICU at the VA. Fellows evaluate and manage patients, teach and supervise residents, and perform necessary diagnostic or therapeutic procedures including endotracheal intubation, management of mechanical ventilation, bronchoscopy, thoracentesis, and central vascular access. Along with the VA consult fellow, the MICU fellow provides coverage and support for the rapid outpatient pulmonary evaluation clinics.
Specialties elective / non-pulmonary critical care. Fellows spend three months rotating through non-pulmonary ICUs at VUMC and the VA. Our fellows have the opportunity to rotate in the neuro ICU, burn ICU, surgical ICU, trauma ICU, and cardiovascular ICU. Additional elective exposures to chest radiology, anesthesia, ECMO and thoracic surgery are available. During these months fellows also participate in an integrated physiology curriculum focusing on pulmonary function testing, exercise physiology, hemodynamic assessment, sleep medicine, and pulmonary vascular physiology.
Call schedule:
Night and weekend call Night call at the VA is shared between the two VA fellows.
Night call for the VU pulmonary inpatient and consult service is provided by second/third year fellows (no overnight call during the week for 1st year fellows).
Weekend call for VU pulmonary inpatient and consult services is covered by PCCM faculty.
Fellows have one weekend day off per week on the VU consult service.
First-year fellows provide weekend coverage in the VUMC MICU during their VU months (inpatient/consults and specialties). 
Years 2 and 3:
Each fellow spends 3 months in the VUMC Medical Intensive Care Unit.  This high acuity, 35-bed ICU provides fellows with exposure to acutely critically ill patients from a wide referral area.  Two fellows oversee the two teaching and one non-teaching MICU teams, under the supervision of dedicated pulmonary and critical care faculty members.  Fellows evaluate and triage MICU patients, develop management plans, conduct daily teaching rounds with the attending, and teach and supervise housestaff along with the attending.  With faculty supervision, the fellow performs or assists housestaff with all necessary procedures including endotracheal intubation, ventilator management, arterial catheter and central venous catheter insertion, pulmonary artery catheterization, thoracentesis, chest tube insertion, lumbar puncture, paracentesis, and bronchoscopy.  Fellows help develop and deliver the MICU Core Curriculum for the housestaff in the MICU, which covers key topics in critical care medicine.  Night and weekend call is shared in a flexible schedule by the senior fellows, with first year fellows providing additional weekend coverage. With growth in our fellowship program, a night float system with day and night shifts for fellows in the VUMC MICU will be starting in January 2022
Procedural training
Fellows begin fellowship training with workshops using simulation and cadaver based training to teach basic bronchoscopy, pleural procedures, airway management, and critical care ultrasound. Throughout fellowship, our fellows generally complete between 150-200+ bronchoscopies, with about half of these including EBUS and navigational techniques. Fellows perform endotracheal intubation in the MICU, including direct laryngoscopy and video laryngoscopy. During pulmonary consult and IP rotations there is extensive training in thoracic ultrasound, thoracentesis, chest tube placement and tunneled pleural catheter placement.
Ambulatory Pulmonary Clinics
All fellows have a half day per week in continuity clinics at Vanderbilt or the VA Hospital in which they follow patients for the duration of their fellowship under the supervision of a core group of faculty attending physicians.  The focus of the outpatient ambulatory pulmonary clinic is in evaluation and management of patients with general pulmonary diseases and symptoms (asthma, COPD, interstitial lung disease, dyspnea, cough, pleural effusions, lung nodules, abnormal chest imaging).  In years 2 and 3 (and during the optional 4th year), fellows have the opportunity to participate in sub-specialty pulmonary clinics to enhance their training in these fields.  Below is a list of some of the sub-specialty centers/clinics available in our program.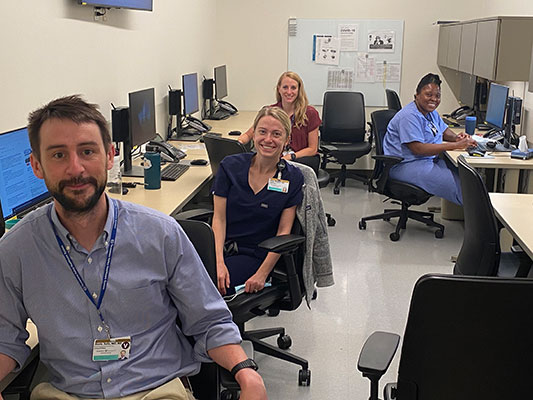 Adult cystic fibrosis clinic is designed to give exposure to the outpatient management of adult patients with CF including standard outpatient care, care of the deteriorating patient, indications and evaluation for lung transplantation, and engagement in clinical trials.
ICU Recovery Clinic: This multispecialty clinic is an innovative and collaborative practice that is focused on the management of patients who have survived critical illness.  This clinic is staffed by Dr. Carla Sevin as well as members of our MICU NP team, pharmacy, and psychology.
Interstitial Lung Disease Clinic sees patients with a variety of ILDs including IPF, connective tissue disease, and other idiopathic interstitial diseases.  This clinic is actively engaged in clinical trials and an interdisciplinary team helps care for this complex patient population.
Interventional Pulmonary Clinic is housed in the Thoracic Oncology Clinic and evaluates patients with tracheal disease and pleural and parenchymal lung diseases before and after advanced bronchoscopic procedures (rigid bronchoscopy, airway stents, cryobiopsy), pleural effusions and complex pleural disease, management of pleural catheters, and lung nodule evaluation.
Lung transplant clinic includes evaluation pre-transplantation and post-transplant care. This clinic is staffed by transplant pulmonologists and highly-trained transplant NPs.  Fellows have exposure to indications for and evaluation for lung transplantation, management of immunosuppression, and post-transplant complications.
Neuromuscular Pulmonary Disease Clinic this once-monthly collaborative clinic with Neurology evaluates patients with pulmonary manifestations of neuromuscular disease including patients with ALS, muscular dystrophy, and other conditions requiring home ventilator support.
Occupational Lung Disease Clinic evaluates patients with all types of parenchymal and airway disease related to occupational exposures.
Pulmonary Vascular Center provides evaluation for patients with known or suspected pulmonary hypertension and vascular disease including pulmonary arterial hypertension, congenital heart disease, and chronic thromboembolic pulmonary hypertension.  This large referral practice has extensive experience will all forms of PH therapy and is actively involved in clinical trials for novel PAH therapies. We have an active surgical program for CTEPH.
Sleep Disorders Pulmonary Clinic sees patients with sleep disorders including insomnia, narcolepsy, restless leg syndrome and sleep apnea. Fellows can work alongside pulmonary faculty who are also board-certified in sleep medicine to diagnose and treat these patients.