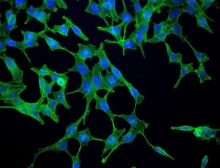 Our recent publication, "Serine Threonine Kinase 17A maintains the epithelial state in colorectal cancer cells", was featured in the VUMC Reporter and tweeted by the American Association for Cancer Research (AACR)!
Dr. Yash Choksi received a Best Poster Award at the 2019 AAP/ASCI/APSA Joint Meeting in Chicago.
Jen Pilat received a Best Poster Award at the Digestive Disease Research Center (DDRC) Retreat.
Shruti Anant was awarded a Vanderbilt Undergraduate Summer Research Program (VUSRP) Fellowship for her research to be conducted this summer. This award carries a stipend of $5,000. Congratulations, Shruti!
Dr. Yash Choksi and Dr. Sarah Short received pilot funding from the DDRC. Dr. Short also received a Young Investigator award from the DDRC. Congratulations!
Joshua Thompson successfully defended his dissertation, "Blood Vessel Epicardial Substance (BVES) and BVES Binding Partners in Intestinal Homeostasis and Tumorigenesis. Congratulations, Dr. Thompson!
Dr. Sarah Short and Rachel Brown received travel awards from the American Gastroenterological Association (AGA) to attend Digestive Disease Week (DDW).
Jen Pilat received an Abstract of Distinction award for her abstract submitted to DDW.
Dr. Yash Choksi received a Career Development Award from the Department of Veterans Affairs. Congratulations, Dr. Choksi!
Jen Pilat received an F31 NRSA Individual Fellowship grant for her work studying Selenoprotein P in Wnt-driven tumorigenesis. Congratulations, Jen!
Dr. Sarah Short, Rachel Brown, Jen Pilat, and Jasmine Chaparro each received $2000 grants from the Vanderbilt Institute for Clinical and Translational Research (VICTR) to support their research.