Genetic Epidemiology Projects
Our research program focuses on racially diverse populations which have varying ancestral population contributions. For example, African Americans have proportions of African and European ancestry. We leverage this genetic diversity and apply it to epidemiologic studies of disease, such as improved predicted lung function equations (Kumar, Seibold, Aldrich et al. 2010). Most genetic studies have been conducted in populations of European descent. Understanding genetics of diverse populations presents an opportunity for improved precision medicine. We have ongoing genetics projects within the Southern Community Cohort Study, the Vanderbilt Thoracic Oncology Biorepository, and the Vanderbilt DNA biobank. New collaborative projects are exploring the pulmonary microbiome.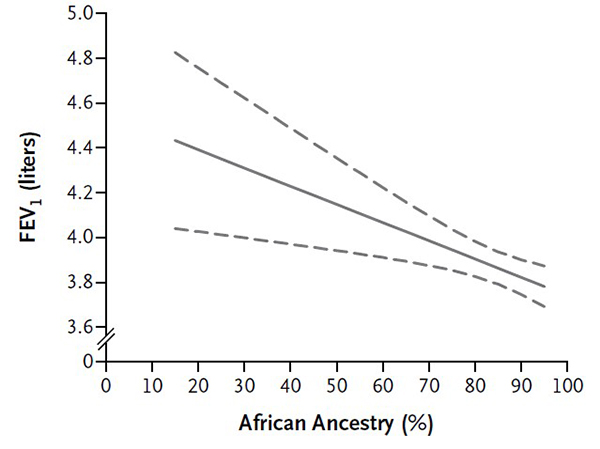 Aldrich MC, Munro HM, Mumma M, Grogan EL, Massion PP, Blackwell TS, Blot WJ. (2015) Chronic Obstructive Pulmonary Disease and Subsequent Overall and Lung Cancer Mortality in Low-Income Adults. PLoS ONE. In Press.
Precision Medicine
Our team has examined the impact of metformin on cancer outcome and is expanding this to pharmacogenetics.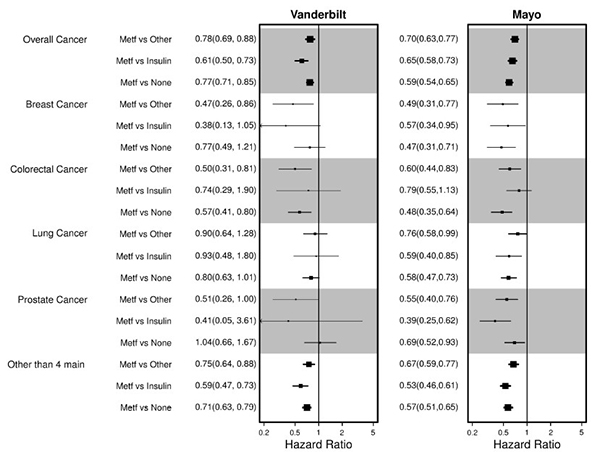 Xu H*, Aldrich MC*, Chen Q, Liu H, Peterson NB, Dai Q, Levy M, Shah A, Han X, Ruan X, Jiang M, Li Y, Julien JS, Warner J, Friedman C, Roden DM, Denny JC. Validating drug repurposing signals using electronic health records: a case study of metformin associated with reduced cancer mortality. J Am Med Inform Assoc. 2015 Jan;22(1):179-91. doi: 10.1136/amiajnl-2014-002649. Epub 2014 Jul 22. PMID: 25053577 *Equal authorship
Big Data
Our team has expertise in various forms of "big data", ranging from genome-wide association studies to geospatial examination of clinical practice across the United States.

Genome-wide association study using data from the Vanderbilt biobank (BioVU).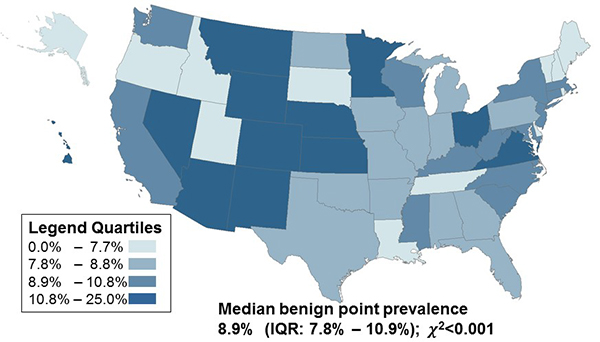 Variation in benign disease point prevalence after lung surgery.