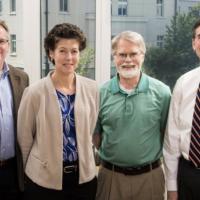 Investigators in the Division of Allergy, Pulmonary and Critical Care Medicine recently received a $4.5 million Asthma and Allergic Diseases Cooperative Research Center (AADCRC) grant from the National Institutes of Allergy and Infectious Diseases (NIAID).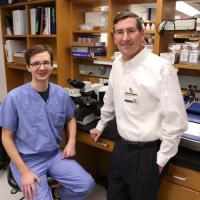 Jan. 4, 2018, 9:05 AM
Matthew Stier, PhD, left, R. Stokes Peebles, MD, and colleagues are studying a factor involved in the movement of certain white blood cells from the bone marrow to the lungs. (photo by Anne Rayner)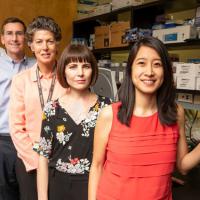 Jul. 12, 2018, 9:18 AM
A drug used to treat diabetes may point to new therapies for respiratory syncytial virus (RSV) bronchiolitis — inflammation and obstruction of the lungs' small airways. A multi-disciplinary team of Vanderbilt investigators has demonstrated that liraglutide reduces the inflammatory response to RSV infection in a mouse model of the disease.