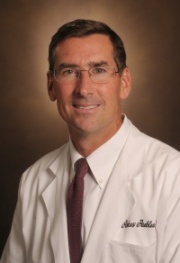 Principal Investigator
R. Stokes Peebles, M.D.
Elizabeth and John Murray Professor of Medicine
Professor of Pathology, Microbiology, and Immunology
T-1227 MCN
615-322-3412
stokes.peebles@vanderbilt.edu
Stokes was born in Athens, Tennessee and raised in Concord, Tennessee.  After completing an undergraduate degree at Davidson College (alma mater of Steph Curry), Stokes graduated from Vanderbilt University School of Medicine.  He completed a residency in Internal Medicine and was Chief Resident at the Nashville VA.  Stokes then completed a fellowship in Clinical Immunology at Johns Hopkins (1991-1995) and a Pulmonary Critical Care Fellowship at Vanderbilt (1995-1998).  He joined the Vanderbilt faculty in 1998.  He is the Section Chief and Fellowship Training Director for Allergy/Immunology at Vanderbilt.
Clinical Interests
Critical Care Medicine, Pulmonary Inpatient Consults, and Allergy Inpatient Consults
Research Description
The Peebles Lab investigates mechanisms regulating lung inflammation, with specific emphasis on allergen-induced and virus-mediated disease. 
Allergy, Pulmonary, and Critical Care Medicine Division Faculty Profile
Allergy, Pulmonary, and Critical Care Medicine Division Faculty Directory
Allergy Immunology Faculty Directory
Pathology, Microbiology and Immunology Faculty Profile
VUSM Faculty Profile