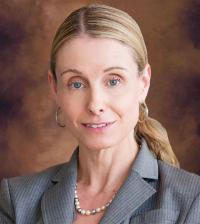 Elizabeth J. Phillips, MD, FRCPC, FRACP, FIDSA, FAAAAI
Professor of Medicine, Pharmacology, and Pathology, Microbiology, and
Immunology, Vanderbilt University Medical Center
Director of Personalized Immunology, John A. Oates Chair in Clinical Research Professor and Director, Centre for Clinical Pharmacology and infectious Diseases
Institute for Immunology and Infectious Diseases, Murdoch University, Australia
Elizabeth Phillips, MD, is Professor of Medicine and Pharmacology and is co-appointed as Director of Personalized Immunology at the Oates Institute for Experimental Therapeutics at Vanderbilt University Medical Center and as Director of the Centre for Clinical Pharmacology and Infectious Diseases at the Institute for Immunology and Infectious Diseases, Murdoch University in Perth, Western Australia. She is also co-director for the personalized-care scientific working group for the Vanderbilt Center for AIDS Research. She has been immensely successful in answering important scientific questions about variation in drug responses, particularly interactions between drugs and the immune system. She played a key leadership role in establishing HLA-B*57:01 and the roadmap from discovery to translation of HLA-B*57:01 as a routine screening marker used prior to abacavir prescription to prevent hypersensitivity. Her current work focuses on defining genetic, molecular, and cellular signatures in severe cutaneous adverse drug reactions such as SJS/TEN that will guide prevention and management. She is currently part of the PGRN and a principal investigator on a P50 grant to study the immunopathogenesis and improvement in the prediction of HLA-mediated drug reactions (http://www.pgrn.org/research.html).

Charles S. Bouchard, MD, MA 
John P Mulcahy Professor and Chair
Department of Ophthalmology, 
Loyola University of Chicago
Charles S. Bouchard, M.D., MA currently serves as Chairman of the Department of Ophthalmology at the Loyola University Chicago Stritch School of Medicine, where his clinical practice is focused on medical and surgical diseases of the cornea and ocular surface. Dr. Bouchard received his MA degree in Physiology from Boston University School of Medicine and his MD from Northwestern University Medical School in Chicago.  He completed his residency at George Washington University and his fellowship in Corneal and External Diseases at Georgetown University. He joined Loyola in 1990 where he has served as Director of the Cornea Service and Residency Program Director. He has held the position of Chairman of the Department of Ophthalmology since 2003. 
His research focuses on severe ocular surface disease including acute and chronic Stevens Johnson Syndrome, ocular graft vs host disease, and tear dysfunction syndrome. His recent publications focused on the role of the ocular microbiome and autologous serum treatments in patients with severe ocular surface diseases including SJS. He organized an international symposium on SJS/TEN in 2017 and participated in annual international SJS meetings since then. He has published 70 peer-reviewed papers, 120 abstracts and 22 book chapters. Dr. Bouchard has received continuous annual funding for a wide variety of research projects from the Illinois Society for the Prevention of Blindness. He has been invited to speak at over 100 regional national and international meetings and has given at least 75 other presentations at various academic forums.
Dr. Bouchard has served as the president of the Chicago Ophthalmological Society and vice president of the Board of Directors of the Illinois Society for the Prevention of Blindness. He has received an Achievement Award as well as the Senior Honor Award from the American Academy of Ophthalmology.   https://ssom.luc.edu/ophtha/research/subspecialtyresearch/corneaandocularsurfacedisease/
Sherrie J. Divito, MD, PhD
Assistant Professor
Department of Dermatology
Harvard Medical School
Brigham and Women's Hospital
Dana Farber Cancer Institute
Boston Children's Hospital
 
Sherrie Divito, MD, PHD, is a dermatologist and immunologist specializing in complex medical dermatology with expertise in the areas of severe cutaneous adverse drug reactions and graft-versus-host disease. She is principal investigator of an immuno-dermatology research laboratory studying the immunopathogenesis of T cell mediated drug reactions and GVHD. Her lab's efforts span bedside to bench and back again with the direct goal of improving patient care. Their work is highly translational, incorporating prospective and retrospective human studies and novel humanized mouse models of disease. They utilize both innovative and traditional laboratory techniques in their research and are highly collaborative with clinicians and investigators across multiple disciplines. Dr. Divito is the recipient of a prestigious Early Independence Award from the NIH Office of the Director and was named a Future Leader by the European Society for Dermatological Research. She is currently PI on two NIH grants. Clinically, she attends on the inpatient dermatology consult service and in a specialized embedded oncodermatology clinic. She is particularly passionate about training and mentoring young researchers and physician-scientists.