Residency Selection Process
The Department of Dermatology at Vanderbilt University Medical Center participates in the National Resident Matching Program (NRMP) and uses the American Association of Medical College's (AAMC) Electronic Residency Application Service (ERAS) as the primary source of resident applicants.
For the 2022 ERAS® cycle, our program will recommend all applicants to complete a supplemental ERAS application, offered through the AAMC's ERAS program. Applicants will be required to complete the MyERAS application.
The additional information will help our program staff learn more about applicants' medical education journey, including more meaningful information about work, volunteer, and research experiences, and help us better identify applicants who fit our program environment and mission.
This supplemental ERAS application will be delivered on a survey platform outside the MyERAS application and must be completed between September 1 and September 30.
Please bookmark the supplemental ERAS application section of the AAMC website to find the latest information, FAQs, and resources.
We are open to the ABD's Investigative Training Track and encourage those residents interested in a research career to apply to our program. Please be sure to mention this as well as the potential fit with our broader medical center's research and resources in your personal statement.

Interview Dates
Tuesday, December 14, 2021
Tuesday, January 11, 2022
Tuesday, January 25, 2022

As we learn more about the APD Coordinated Release, we will post updates here.
---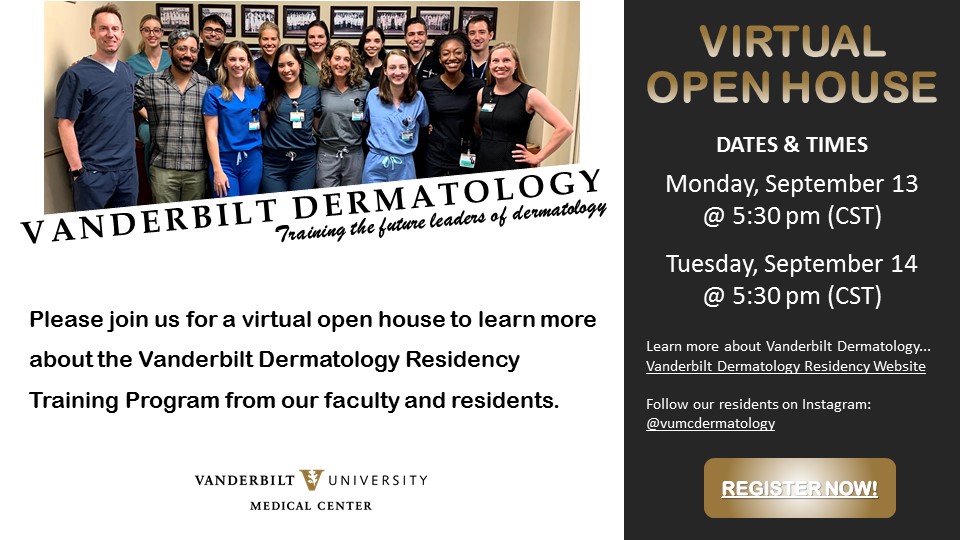 ---
We invite you to view our residency videos!
VUMC Dermatology Residents & Tour
In the video, several dermatology residents explain the strengths of the dermatology residency program at VUMC, and provide a brief tour of clinic spaces.
 
A Look at VUMC Dermatology Residency: With Faculty
In the video, several dermatology faculty explain the strengths of the dermatology residency program at VUMC.