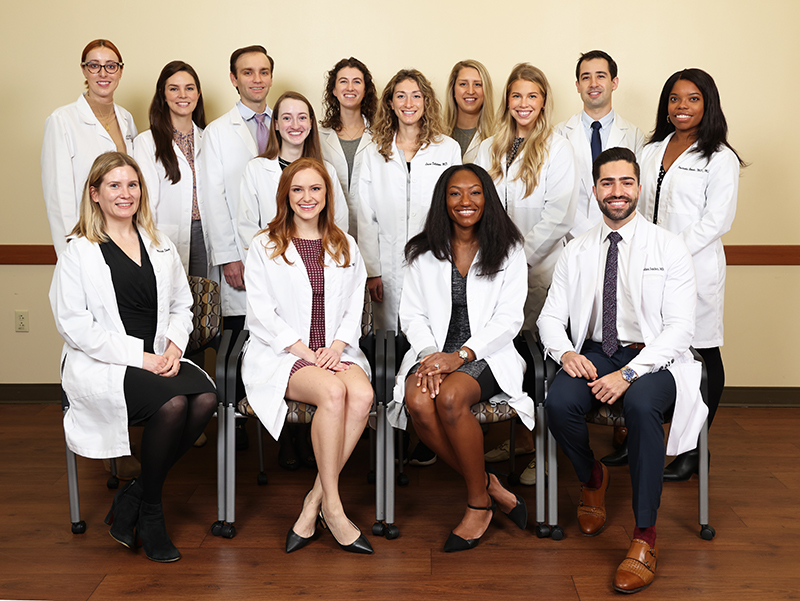 Program Overview
The Dermatology Residency Program at Vanderbilt University Medical Center is a three-year program that offers excellent clinical training including extensive surgical and pathology exposure. Residents rotate through three hospitals - Vanderbilt University Hospital, Vanderbilt Children's Hospital, and the Nashville VA Medical Center.  The Vanderbilt University Hospital & Medical Center, the Vanderbilt Children's Hospital, and the Nashville Department of Veterans Affairs Medical Center are contiguous institutions that are directly connected via walkways.
The goal of the Vanderbilt University Dermatology Residency Program is to produce Dermatologists who are excellent clinicians, scientists, and leaders in the specialty of Dermatology.  Many of our graduates go on to pursue subspecialty fellowship training after graduation, and choose to practice in either academic or private practice settings. Our program provides a stimulating intellectual environment. State-of-the-art clinical and basic science medicine is taught and practiced within a collegial atmosphere that fosters medical knowledge, scholarship, career-long learning, professionalism, compassion, effective communication with patients and all members of the medical team, and sensitivity to the cultural differences and needs of patients.
Program Strengths
Immersive clinical rotations in general dermatology, subspecialty dermatology, procedural dermatology, and dermatopathology.
Faculty committed to education and research.
Dermatopathology and procedural dermatology embedded into the department.
Diverse patient population from throughout Tennessee, and many surrounding states.
Foundation in a quaternary care medical center with Burn Center.
Volunteer experiences within the community.
Opportunities to teach and mentor medical students.
Emphasis on research with access to collaboration across departments.
---
We plan to send out interview invitations with the coordinated release dates which are yet to be determined by the Association of Professors in Dermatology (APD).
---
During virtual interviews this 2022-23 academic year, the residency and fellowship programs at Vanderbilt University Medical Center (VUMC) want all participants in the interview process to have the best experience possible.    We recognize that candidates want to present their best and any type of recording during this process may add undue stress to the process. We would like to agree that neither party (program or candidate) record nor distribute any part of any interview conducted on a virtual platform (e.g., Zoom, WebEx, Skype, etc.).  This includes screenshots, still photos, audio recording, and video recording.  Please direct any questions to the program director.