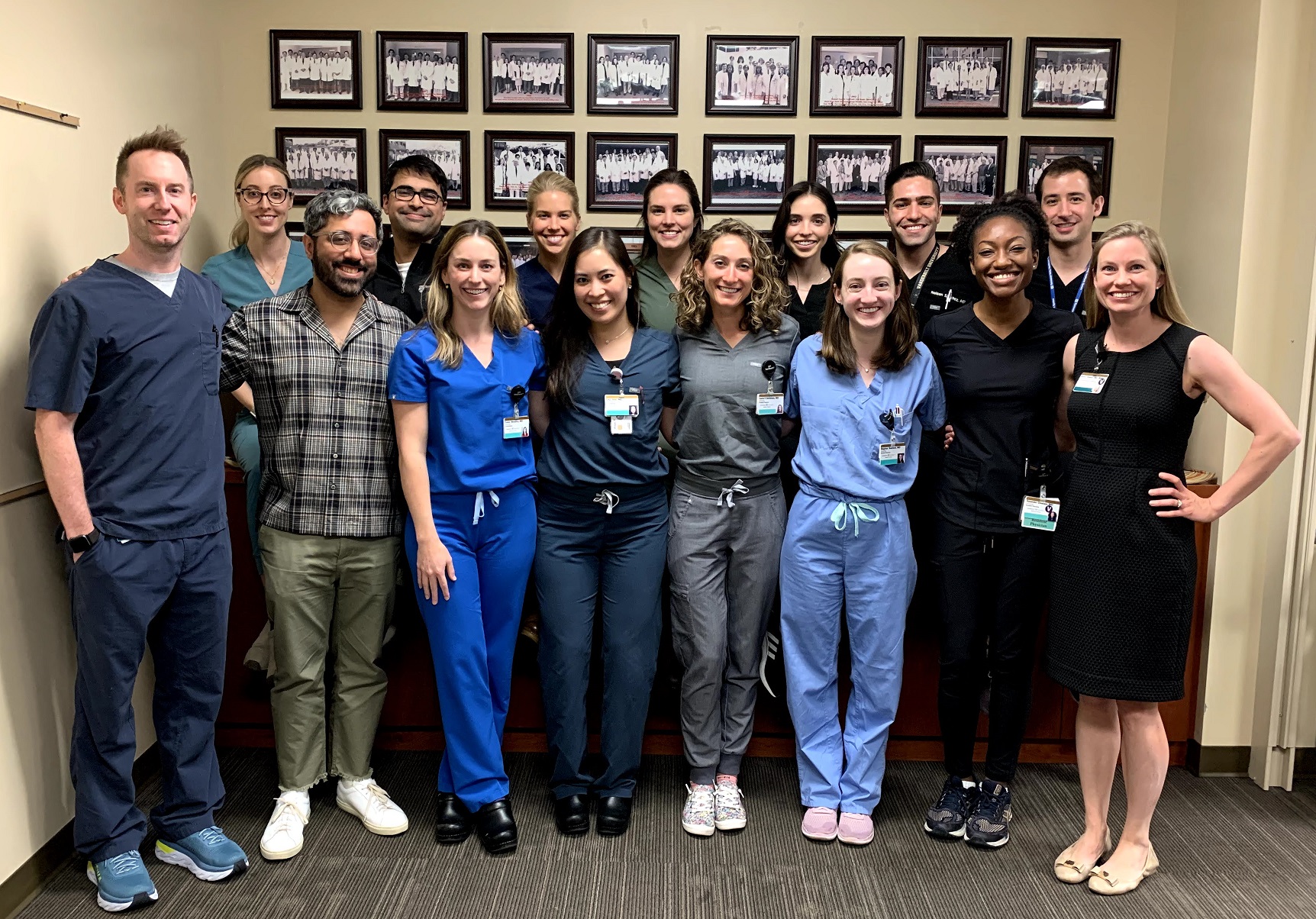 The Department of Dermatology Residents at Vanderbilt University Medical Center

Front Row:  William Stebbins, MD, Associate Program Director; Saagar Jadeja, MD; Casey Murphey, MD; Lisa Ishii, MD; Laura Dellalana, MD; Meghan Beatson, MD, Amanda Onalaja, MD; Annie Dewan, MD, Program Director

Back Row:  Laura Gardner, MD; Eric Mukherjee, MD, PhD; Karen Arnaud, MD; Ashli Fitzpatrick, MD; Mary Dick, MD; Nelson Sanchez, MD; David Schauder, MD, PhD
(not pictured: Meredith Steuer, MD)
The Dermatology Residency Program at Vanderbilt University Medical Center is a three-year program that offers excellent clinical training including extensive surgical and pathology exposure. Residents rotate through three hospitals - Vanderbilt University Hospital, Vanderbilt Children's Hospital, and the Nashville VA Medical Center.  The Vanderbilt University Hospital & Medical Center, the Vanderbilt Children's Hospital, and the Nashville Department of Veterans Affairs Medical Center are contiguous institutions that are directly connected via walkways.
The goal of the Vanderbilt University Dermatology Residency Program is to produce Dermatologists who are excellent clinicians, scientists, and leaders in the specialty of Dermatology.  Many of our graduates go on to pursue subspecialty fellowship training after graduation, and choose to practice in either academic or private practice settings. Our program provides a stimulating intellectual environment. State-of-the-art clinical and basic science medicine is taught and practiced within a collegial atmosphere that fosters medical knowledge, scholarship, career-long learning, professionalism, compassion, effective communication with patients and all members of the medical team, and sensitivity to the cultural differences and needs of patients.
Program Strengths
Immersive clinical rotations in general dermatology, subspecialty dermatology, procedural dermatology, and dermatopathology.
Faculty committed to education and research.
Dermatopathology and procedural dermatology embedded into the department.
Diverse patient population from throughout Tennessee, and many surrounding states.
Foundation in a quaternary care medical center with Burn Center.
Volunteer experiences within the community.
Opportunities to teach and mentor medical students.
Emphasis on research with access to collaboration across departments.
---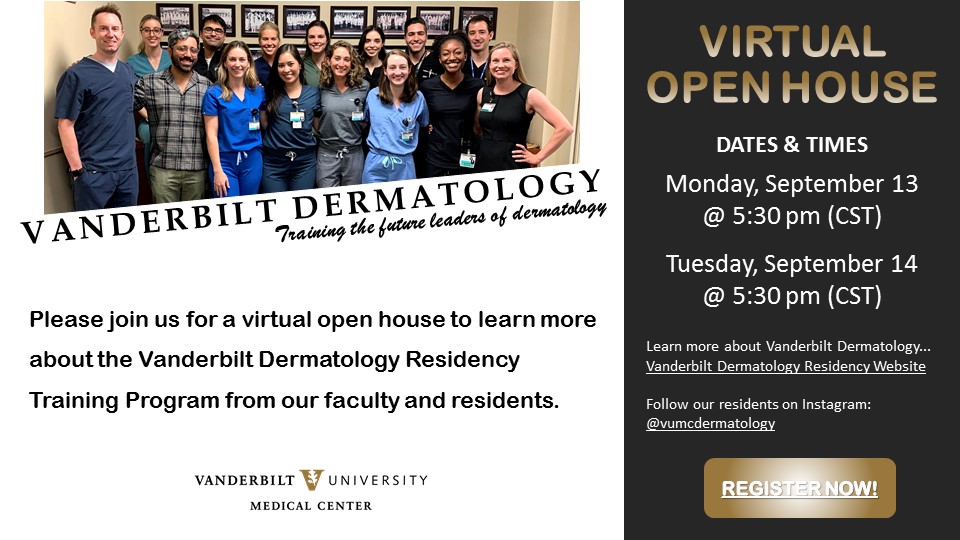 ---
We invite you to view our residency videos!
 
VUMC Dermatology Residents & Tour
In the video, several dermatology residents explain the strengths of the dermatology residency program at VUMC, and provide a brief tour of clinic spaces.
A Look at VUMC Dermatology Residency: With Faculty
In the video, several dermatology faculty explain the strengths of the dermatology residency program at VUMC.
---